HOW TO PREVENT SPREADING CRPS DUE TO IV PLACEMENT
March 12, 2010
Placement of an intravenous (IV) catheter in a patient with CRPS can lead to spreading CRPS symptoms to a normal extremity causing major, even catastrophic, disability. The following case illustrates how to prevent this outcome in a patient with difficult access to veins.
A 23 -year white female developed CRPS following a fracture in the left foot. The patient's pain became progressively worse with spreading CRPS symptoms to the right upper extremity and face region despite a series of three left lumbar sympathetic blocks. The patient was scheduled for a 3-day treatment of escalating dose IV ketamine. Unfortunately, multiple attempts to place an intravenous catheter in the left upper extremity (good extremity) failed due to poor intravenous access. The trauma caused by multiple needle sticks resulted in spreading CRPS symptoms to the left upper extremity leaving the patient completely disabled.
A Mediport (or portacath) was placed. The port is a small medical appliance that is installed beneath the skin. A catheter connects the port to a vein. Under the skin, the port has a septum through which drugs can be injected and blood samples can be drawn many times, usually with less discomfort for the patient than a more typical "needle stick".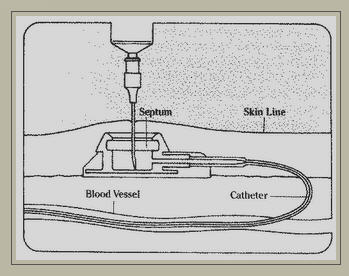 The graphs below illustrate that following the administration of escalating doses of IV ketamine over three consecutive days there was a improvement of pain thresholds and complete resolution CRPS symptoms in both upper extremites and the face region.
The 24-minute video linked below demonstrates that the patient improved in her mood and she was able to walk for first time. She also reported decrease swelling throughout her body.
Pre and Post Treatment Measurements 24-Minute Video ~ 340K

SECOND KETAMINE INFUSION (4-DAY)

THIRD KETAMINE INFUSION (4-DAY)
FOURTH KETAMINE INFUSION (4-DAY)
MORE INFORMATION ... OTHER PATIENTS